This past weekend, several staff members from Highland Woodworking had the opportunity to attend the Lie-Nielsen Toolworks Open House at their factory showroom in Warren, Maine. The week prior to the Open House was dedicated to the Lie-Nielsen "dealer training", where the expert staff at Lie-Nielsen taught attendees all about the use and creation of their heirloom quality tools. Both events were a great way to learn more about all of the Lie-Nielsen tools that we sell at Highland Woodworking, in addition to the culture and work that goes into the making of each tool.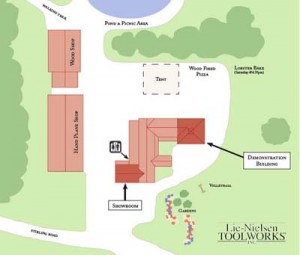 As you can see from this MAP of Lie-Nielsen, they fully utilized their spacious campus for the Open House, with most of the fun occurring both upstairs and downstairs in the Demonstration Building. In addition to the knowledgeable Lie-Nielsen staff showing off the use and care of all of their tools, the event also hosted 15 elite toolmakers and woodworkers from all over the world, who were there to demonstrate and share their own products and works within the hand tool realm.
Among the activities were:
Chris Becksvoort explaining his joinery-teaching-aid cabinet that shows how to deal with wood movement, a subject that is well-covered in his new Lost Art Press book "With The Grain: a Craftsman's Guide to Understanding Wood." (Highland will have this book in stock soon.)
Toyohisa Sugita of Japan demonstrating his clever magnetic jig for precise sawing of hand tool joints. (Still in prototype stage. Highland may carry this jig in the future.) His website is all in Japanese, but has a lot of great pictures of his various jigs.

Kevin Drake of Glen-Drake Toolworks demoing his new spindle turning skews as well as his unique dovetail saws, hammers and extremely popular Titemark Marking Gauge. (Highland is considering adding to our product line some of his other fine handtools as well).
Matt Bicksford showing off his exquisite 18th century reproduction British molding planes. His seminal book on the subject, Mouldings in Practice, was recently published by the Lost Art Press.
Garrett Hack, a furniture maker and contributor to Fine Woodworking magazine, had a demonstration bench where he was building a beautiful side table, featuring his famous inlay work.
Several instructors and students were on hand with their pieces from the Center for Furniture Craftmanship, which is located just a few miles from Lie-Nielsen Toolworks.
Also gracing the Open House was an exhibition of furniture entitled "Women in Woodworking" that included dramatic works by seven talented female craftsmen. Keep your eye out for a more detailed feature about this exhibition in a future entry on the Highland Woodworking blog.
CLICK HERE to visit our photo gallery from the demonstrations presented at the Lie-Nielsen Toolworks Open House.
CLICK HERE to visit our photo gallery of the Lie-Nielsen Factory Tour, showing the process of how they make their exquisite hand tools.