A few weeks ago we began blogging about Highland Woodworking owner Chris Bagby and his wife Sanne's progress with the installation of  a 
Little Free Library
 in their front yard in Atlanta, GA.
The Little Free Library
is a nationwide community movement project that involves the creation of a birdhouse-sized structure that is placed in your front yard and then filled with books that can be shared with others in your neighborhood. Sanne has been keeping track of their progress through her own blogging and we wanted to share an update on the installation of the drawer and the door.
———————————————————————————————————————————————————————-
We've been busy putting our Little Free Library together! Chris used a scroll saw to cut out a window in the door of our cabinet. Using a ball-bearing-guided router bit, he routed a rabbet all around the inside of the opening, then squared the corners with a chisel so that we could imbed a rectangular piece of plexi-glass into it.  Passers-by will be able to see the books inside, an additional way to invite them to explore the contents of the Little Free Library. We used a 3/32-inch thick piece of plexi, cut to size for us by our local ACE Hardware store. I sanded, primed and painted the cut edges inside the opening before installing the plexi, which fit perfectly. We used screws and silicon adhesive to secure the plexi; it's quite secure and waterproof now!
I sanded and painted both of the shelves that came with the cabinet. We will only need one shelf in our library, so one of the original shelves will serve as the new "floor" of the cabinet, separating the drawer cavity from the main compartment of the library. Ignoring the old wood brackets that originally held the shelves, we mounted a new set of shelf supports and used the remaining shelf to serve as the cabinet's only shelf. The books for adults will be in the upper section and the children's books in the lower section.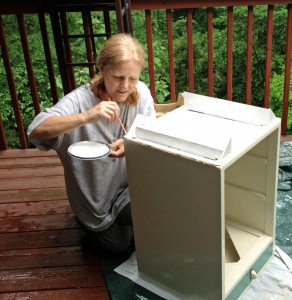 Click HERE to continue reading the entries in this project series, with The Roof Addition.