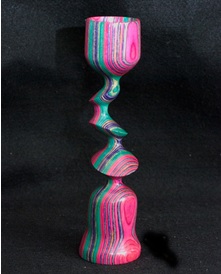 Not only is today the first day of Summer, but it is also Follow Friday! Today, we are featuring woodturner, Ray Bissonette, from Snyder, NY, who was featured in our June 2013 issue of The Highland Woodturner. Although he first got  interested in woodturning while in shop class at school, he didn't really pursue the craft until he got his own lathe and began to experiment with different pieces. From this experimentation, he developed his "don't try this at home" approach to woodturning, which has been the idea behind many of his off-center and eclectic looking pieces that were made with an "unconventional use of conventional tools."
Many of Ray's signature pieces are made using the following process, as described by Ray:
"I turn the shaft round with a slight taper toward the tail stock, shape the exterior of the cup, then remove the tailstock. After hollowing and finishing the cup, I begin the white knuckle part. I loosen the chuck and shift the workpiece somewhere between 1/8 and 3/16th inches (I don't measure), re-tighten really hard and cut my first offset section. When that is complete, I repeat the process in 90° increments to produce the progressive twist which I prefer to a "crankshaft" pattern. The horizontal and vertical contours I get are not possible to my knowledge with an offset chuck. However, I'm told the process is inherently risky to the workpiece, worker or both".
To find out more about Ray's wood turning and to view more images of his work, you can visit his websites HERE and HERE. You can also email him directly HERE.

———————————————————————————————————————————————————————-
Fridays on the Highland Woodworking Blog are dedicated to #Follow Friday, where we use this space to further highlight a woodworker or turner who we have featured in our monthly e-publications Wood News or The Highland Woodturner. Would you like your woodworking to appear in our publications? We invite you to SEND US PHOTOS of your woodworking  along with captions and a brief history and description. (Email photos at 800×600 resolution.) Receive a $50 store credit redeemable towards merchandise if we show your woodworking in a future issue.