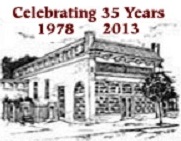 ON A BRIGHT SPRING MORNING in the spring of 1978, Chris and Sharon Bagby opened the doors at Highland Hardware for the first time. Now 35 years later, they're still in business operating the store that grew to become Highland Woodworking as we know it today. It's been a long journey that could not have been accomplished without the support of countless thousands of loyal customers, many of whom have shopped here almost from the beginning.
Throughout these 35 years there have been many exciting additions and changes, but one thing has always remained the same and is our mission to deliver fine tools to your door.
Here is a timeline history of some milestone events that have happened over the past 35 years!
May 15th, 1978: Owners Chris and Sharon Bagby open Highland Hardware at 1034 North Highland Ave (across the street from its current location), an ordinary hardware store in Midtown Atlanta.
1980: The company begins to offer a weekend seminar program in their basement, bringing in woodworking masters like Tage Frid, Sam Maloof, and Roy Underhill.
1984: The store moves to a larger retail space across the street at 1045 North Highland Ave (and its current home today). The seminar program  moves to a warehouse located behind.
1992: Our product-oriented newsletter, Wood News, merges with our woodworking tool catalog, and comes out 2-3 times per year as a physical publication. Our catalog is still published to this day, which you can subscribe to receive by mail HERE.
1995: The building is renovated to add 8,000 square feet to the store, which includes a brand new seminar/classroom space, a larger shipping/receiving area including a loading dock, a larger back office space, and additional floor space for retail sales.
1996: Highland Hardware launches into the World Wide Web at www.highlandhardware.com.
2005: Wood News begins as a monthly email newsletter with tools, tips, and monthly features highlighting woodworkers from around the world. Subscribe to Wood News HERE.
2006: Highland Hardware becomes Highland Woodworking. Still under the same ownership and still offering the same great service, we wanted to present a truer reflection of the nature of our tool offering and our position in the woodworking industry.
2013 (Present Day): Chris and Sharon are still involved in the everyday operation of our store and with a highly knowledgeable staff we are continuing to deliver fine, quality tools to your door.
As always, with passing years comes even more additions and  technology. We invite you to continue checking out all of our new and exciting offerings by continuing to follow our Blog, like us on Facebook, tweet us at Twitter, hang out with us on Google+, or pin your favorite tips and tools on Pinterest.
From the entire Highland Woodworking family, we thank you for your continued support!
Sincerely,
Chris Bagby, Owner