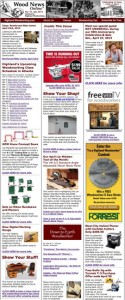 The April issue of Wood News Online is out and ready to read!
In his column this month, Steve Johnson, our Down to Earth Woodworker, continues his metric conversion by talking finishes, and he discovers how easy it is to mix shellac using metric units! Steve also builds a magnetic stirring device, plans his next big shop project: a mobile sanding center, and gives us a rundown of the latest research he has done on ancient tool sharpening methods.
Jim Randolph is not a big fan of sanding, but in his Tips from Sticks-In-The-Mud Woodshop column this month, he has a few ideas for how to make it a less unpleasant task. We've also got a new shop from Bruce Herndon, some exquisite scaled furniture pieces from Ramon Gibbs, and Chris Adkins' beautiful "Tree Box" carving.
All this plus much more, including some great deals and information on our upcoming 35th Anniversary Celebration, featuring Roy Underhill. Take a look inside!