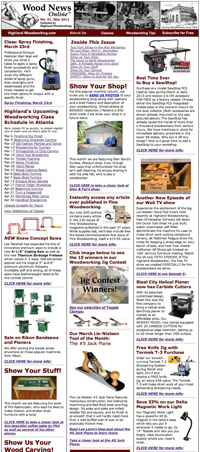 The newest issue of Wood News is out, and we are really excited about this one!
Steve Johnson takes a head-on look at immersing himself in the metric system in his Down to Earth Woodworker column, and offers a convincing argument that you should do the same. If you've been considering getting Chris Schwarz's Super-Tune a Handplane DVD, you'll want to take a look at J. Norman Reid's review. We've also got the fourth article in the My Last Shop series from Mike Smith, in which Mike demolishes the shed taking up the space he is going to use for his new shop and tells you how he did it.
We've also got winners of our jig contest, a new episode of The Highland Woodworker, and something we can't wait for you to see – a new column by Jim Randolph, called Tips from Sticks-In-The-Mud Woodshop. Every month Jim will be offering a couple tips he has worked out in his own shop to save time and money and generally enhance your projects.
We've also got some great deals on Sawstop, Rikon, Tormek and more! CLICK HERE  to take a look at this month's issue of Wood News Online!