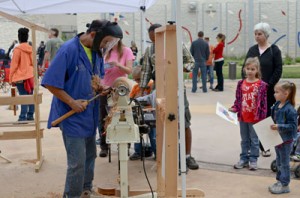 Well it's that time of year again.  Time to get organized and set new goals for the year ahead. I would encourage you to think about your own turning goals. Consider stretching your turning horizons and join your local turning club.  If you are already a member, volunteer to conduct a demo or bring a finished piece for your club's show and tell.  You can't cross an ocean with one foot on the dock!
My turning goals for 2013 are as follows:
1.    Demonstrate my spring pole lathe for my club.
2.    Attend the Southwest Association of Woodturning Symposium.
3.    Make another stool.
4.    Visit Berdoll Sawmill & Furniture Co.  A mill east of Austin that handles extremely large trees.  For example rare 30"+ diameter mesquite trees!
5.    Teach my 11 year old son some basic turning skills.