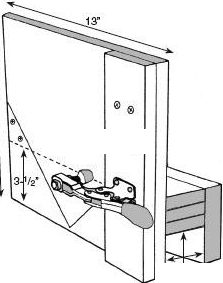 Toggle clamps are definitely at the top of our list of favorite accessories. We hear from our customers all the time that one of their best uses is for securing workpieces in their shop-made jigs.
We thought this sounded like a great opportunity to share your shop tricks and maybe even win an award for your trouble! We'll provide a $100, $50 and $25 Highland gift cards for the top designs submitted by our customers for their shop-made accessory jigs that use one or more toggle clamps.
Just provide us with a sketch of your design along with a brief description for how the jig works. Email the whole thing to us at jigcontest@highlandwoodworking.com for your chance to win!
We'll feature the winning entries in a future issue of Wood News Online. Deadline to enter is February 15, 2013.
And just go get you on the right track, here's a link to a simple table saw tenon jig (pictured) that we drew up awhile back.