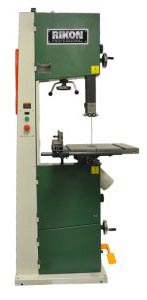 Congratulations to John Rinehart of Marble Falls, TX on winning Highland Woodworking's 2012 Rikon Pro Bandsaw Giveaway!
John won a Rikon Model 10-350 Professional Bandsaw and a Wood Slicer resaw blade! We had a quick chat with him about winning the contest and how he plans to use his new band saw:
HW: Can you give us a history of your own woodworking? What types of woodworking do you do? How did you get started?
John: At the age of 75 I have been in and out of woodworking all my life. I started in junior high working for my two uncle's one in home repair and one in boat repair after high school I went to work for the General Furniture company by the age of 21 I was the head supervisor of the wood department. After that I spent 4 yrs. with the State of Ohio and then 43 yrs. with the local power company. After retiring and moving to Texas, I decided to get back into woodworking as a hobby. Luckily my wife had the eye of an artist and we started to make our own Christmas gifts. Every year we make 60 wooden cards to send to family and friends – this project starts on July 1st and we mail them on Dec 1st.
HW: How did you find out about the contest?
John: I look at a lot of different wood working web sites and a friend suggested I look at yours…turns out it was a good suggestion!
HW: Can you describe your reaction on finding out that you won?
John: I have won small prizes in the past but never anything like this and at 75 you don't jump up and down. I was totally overwhelmed and was not sure I had even filled out the paper work right when I sent it in.
HW: What do you plan on using your new tools for? What will you do first?
John: Talk about winning something at the right time – this last year we lost 10 oak and 5 mesquite trees and I was trying to come up with a way to convert all that wood into usable lumber to fit my woodworking needs and my poor old Tradesman Bandsaw just didn't have the power to do this (now donated to a good cause).
HW: Any final words?
John: I AM GOING TO MAKE A LOT OF SAWDUST! Thank you – you made it so that I am going to have a lot of fun.
---
The 2013 Lie Nielsen Giveaway is ending this Thursday, January 31st, at noon. Get your entries in now!