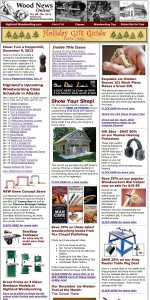 The December issue of Wood News Online is out and ready to read. This month we've got a woodworking bucket list from Howard Van Valzah, an impressive workbench carcase design story from John Bonin and an entertaining story from Dick Rank on designing the 'perfect' bottle stopper.
We've also got another great column from our Down to Earth Woodworker, Steve Johnson, where he offers a series of holiday time-saving workshop tips. If you are feeling pressed for time in your shop during this busy season, take a look at his article for a few ways tips that might give you a little more time to do the fun stuff.
Six new Fox Chapel woodworking books are available for incredible discounts for the month of December, just in time for holiday gifts!
We've also got Jeff Street's dream shop, Greg Little's amazing carved boxes and a special double edition of Show Us Your Stuff featuring rocking horses built by Jack Masten AND Kenneth Sternberg.
All this plus our holiday gift guide and woodturner's gift guide, and much more! To take a look at all of it, just CLICK HERE.
Happy Holidays, everyone!