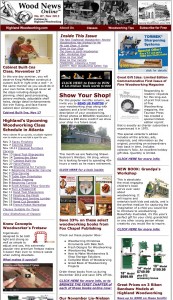 This month's issue of Wood News is out – click here to start reading!
If you've been thinking about updating your shop, you might want to take a look at the first part of Mike Smith's series My Last Shop, in which he goes through the process of building his workshop from the ground up. You can also check out another amazing shop in our Show Us Your Shop column – Shawn Nystrom's beautiful shop that he shares with his wife, who is also a woodworker.
Check out a great article from Steve McClintic in which he recounts his own woodworking history and the stories that go along with each piece of woodworking he has built. We've also got a new book review of Jim Tolpin's The New Traditional Woodworker by J. Norman Reid.
Steve Johson, our Down to Earth Woodworker is waxing nostalgic about his childhood memories in the local barbershop – but he feels you can get that same community feeling by visiting your local woodworking store. He also writes up a full top-to-bottom strategy for getting your shop cleaned up and in working order just in time for you to get in there and make some gifts for the holidays.
All this and much, much more including some great deals and previews of several woodworking books from Fox Chapel Publishing, available this month in Wood News Online. Go take a look!