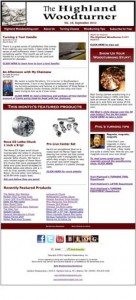 Take a look at the latest issue of The Highland Woodturner!
This month we've got a great new column by Curtis Turner on turning a tool handle – a great find for anyone who collects older tools or if you just would like a better fitting handle on a tool you use frequently. We also have a very entertaining article by Leslie Struthers about the trials she has experienced starting up her chainsaw.
Blair Swing's fantastic wood turnings that range from the 1970s to today are featured in the Show Us Your Woodturning column, and Phil Colson offers some great uses for magnets around his woodturning shop that might be helpful to you.
Go check out this month's Highland Woodturner, and enjoy!