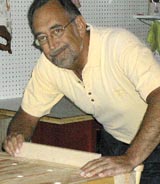 By his own admission a 'power tool junkie', this month our Down to Earth Woodworker waxes poetic about one of the things he loves about woodworking – the opportunity to decide between many options along the way:
Choices are one of the most alluring aspects of woodworking. Highways or byways. The journey, the side trips, the detours, the dead ends, the destination…with each route providing many feedback loops.
Read the entire Down to Earth Woodworker column, or take a look at the September issue of Wood News Online.
For more great columns like this, check out Wood News every month. You can subscribe here. We've got a new issue coming out next week!