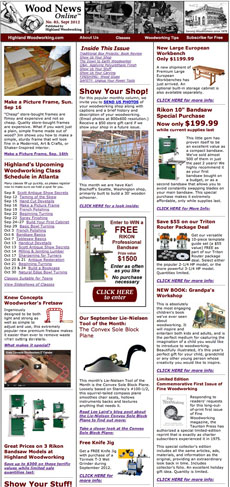 The September issue of Wood News Online is available now! With summer winding down, we are all getting back into our shops a bit more – take a look at this month's Wood News for a little woodworking inspiration.
And speaking of, we've got some inspired woodworking by Rod Scott in our Show Us Your Stuff column, as well as some really intricate carvings by Linda Master in our Show Us Your Carving column. Both of these woodworkers are producing some really impressive pieces.
In this month's Down to Earth Woodworker column, Steve Johnson likens his woodworking to a leisurely Sunday drive, where you encounter unknown destinations, wrong turns and sometimes even a dead end here and there. As long as we are all enjoying the journey, that's what matters!
J. Norman Reid provides another book review this month, this time on a book of Traditional Box Projects, which is already giving him ideas for what he will build next.
All this plus Morton is back in business with three product tours featuring the Festool Rotex Sander, the Lie-Nielsen dowel plate and the Rikon jointer/planer. Go take a look – there's a lot of inspiration waiting for you!