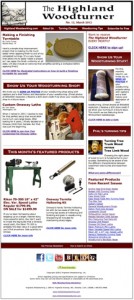 The March edition of The Highland Woodturner is out! For all of you who haven't read or heard of The Highland Woodturner, it is the official woodturning online magazine put out monthly by Highland Woodworking.
This month we've got a great column by Curtis Turner about how to make a finishing turntable on your lathe. A fun turning/building project AND useful around the shop!
We've also got a great article from Tom Soles on his custom lathe setup – enough to make any woodturner drool. Another useful turning tip from Phil Colson and a beautifully turned kaleidoscope by Anne Whitcombe round out the stories in this month's issue, and as always we've got some great woodturning products as well.
Go take a look at The Highland Woodturner now and then get down to the shop and turn some wood!