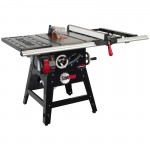 We are excited to announce that we can now sell and ship the SawStop Contractor Saw to our customers nationwide within the lower 48 states.
Sawstop's brake design is well known for its unique ability to instantly stop and retract the blade upon any contact between the sawblade and your skin.
You can see a good Southern SawStop demonstration below from Roy Underhill's last visit to Highland:
And check out this video that explains SawStop's unique technology in more depth:
More information about the SawStop Contractor Saw, available at Highland Woodworking.