We received word today, Oct. 5, that renowned English woodworking author and teacher, David Charlesworth, was stricken with a serious illness while teaching in Germany and is in dire need of our assistance.
David is in need of an ambulance flight back to England but is not in position to cover the expense of one. We would like to encourage those in the woodworking community who are able to do so to make a donation of $1 to $10 to a fund for that purpose. Donations can be made via Paypal to David's assistant John at
jklweb@lineone.net (through Paypal)
. Highland Woodworking will also be contributing to the cause.
Chris Bagby, owner
Highland Woodworking
More details:
(courtesy of Frank Byers at Woodcraft)
Outreach for David Charlesworth
This blog is not about sales or in support of any marketing attempt for monetary profit. This is an attempt to give back with your help. We have a world renowned author, teacher, furnituremaker and woodworker, David Charlesworth, that has done much for the woodworking industry, who now requires our help. If I had to state on word that drives or represents woodworkers and their accomplishments, that word would be "inspiration." David has been, and still is the epitome of inspiration for many through his woodworking talents. He now requires our inspiration and giving back to him.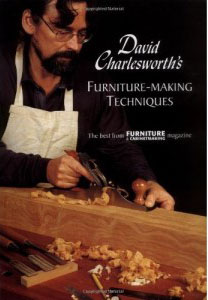 David was teaching woodworking classes in Germany, when he was rushed to the hospital with respiratory problems, and other health complications that affect his ability to survive. We all know what it means when we cannot do our craft, as David is currently in condition, unable to continue doing what he does best. Without that ability, he acquires no income. His wife Pat, a retired school teacher with limited funds, is trying to handle it all.
That's where we all come in as a family of woodworkers. I have found that woodworkers do more than just woodwork. Most, if not all woodworkers that I have encountered in my travels, have given back in some way to children, medical causes, the indigent, universities, home school woodworking programs, other woodworkers, communities; all with personal money, time and attention.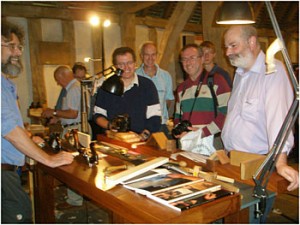 David needs our help right now, and time is of the essence. If you can donate a contribution, it will all add up to help David. Your heart-felt gift will not only help with his medical bills, but relieve part of the heavy burden a situation like this puts on a person and a family. When mental and physical well being need to come together to support the healing process, help from the outside can be instrumental in accomplishing a healthy recover.
Rob Cosman shared with us his support of David, stating, "While recovery is the most important, the reality is David, like most of us, needs to work. He derives a part of his income form his royalty on books and DVDs. If you have been considering a purchase, NOW would be a good time, and a great way to show your support."
If you can help in any way, please send your contributions to:
The PayPal account for David, setup through David's assistant John at: jklweb@Lineone.net (through Paypal)
You can also order his DVD's and books through David's site: www.davidcharlesworth.com.
You may also send your contributions by mail to:
David Charlesworth
Harton Manor
Hartland
Bideford
Devon
EX39 6BL
Please feel free to spread this word on David's behalf, and please keep David in your prayers.
Thanks in advance from all of us.