Hi Woodworking Friends,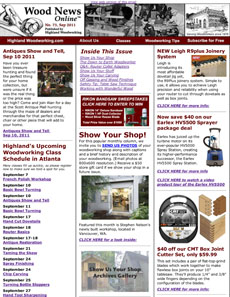 The latest edition of Wood News is available for your reading enjoyment! This month we've got some great offerings, including a new column by the Down to Earth Woodworker, Steven Johnson, in which he discusses the flooring and lighting choices he made for his new Down to Earth Workshop – something every woodworker contemplates for their own workshop on occasion. Steve also includes a look into one of the final (and most daunting!) steps in finishing his garage to workshop conversion – removing the garage door and replacing it with a wall. He has even included a video of the whole process!
This month's Show Us Your Shop column features Stephen Nelson's built-from-scratch workshop, ingeniously built into an unused corner of his new house. In the Show Us Your Stuff column Keith Woody displays several of his recent projects, as well as a not-so-recent project: a wine rack he built more than 40 years ago! And this month's Show Us Your Carving column features Michael Tryba's impressive nature carvings – great examples of relief and in the round carving.
We've got three new video product tours by Morton for the Rikon 14″ band saw, our own Wood Slicer resaw bandsaw blade and the Earlex HV5500 Spray Station. Dick Rank has provided another great article this month, focusing on his impressive first attempt at fine furniture. With lots of great deals, a full class offering, and much more, the September Wood News is a great read – go check it out!