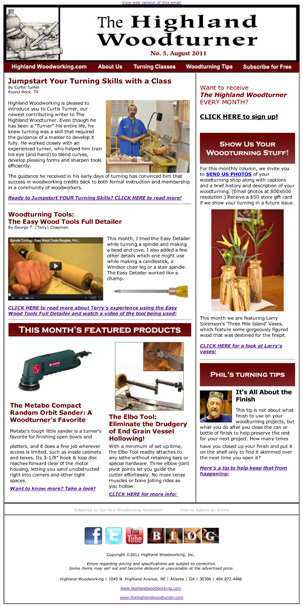 This month's edition of The Highland Woodturner is now available! This month we've got a new column from woodturner Curtis Turner, who appears by his name to have been born into the craft. He makes some compelling arguments for why you should consider taking a class if you want to advance your woodturning skills.
We've also got a new article and video by Woodturning Snob Terry Chapman about another of the Easy Wood Tools turning tools, the Easy Detailer. Phil Colson provides a great tip on keeping wood finishes fresh for your next woodturning project, and Larry Sorenson displays his 'Three Mile Island' vases, turned out of some stunning olive wood that was destined for the firepit.
Throw in a couple of great deals on woodturning tools, and you've got the latest and greatest of The Highland Woodturner. Check it out!