The following article appeared in the 4th issue of our new woodturning newsletter, The Highland Woodturner. If you are interested in receiving The Highland Woodturner every month, you can sign up here!
Turning Your Own Baseball Bat
By Jack Masten
North Creek, NY

What does a retired Industrial Arts Teacher give his 15 year old grandson for a gift? Seeing that he is the starting catcher on his high school baseball team, why not make him a baseball bat from Northern White Ash?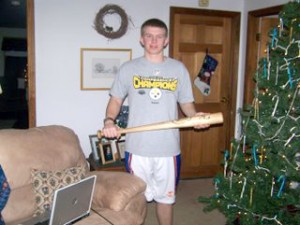 Materials and tools needed
Northern White Ash 3″ x 3″ x 36″ long
Lathe
Roughing gouge
Parting tool
Spindle Gouge
Skew
Band saw
Finishing Supplies
Caliper
Ruler
Pencil, paper, hardboard
One Grandson (pictured)
Click here to see how Jack turned his own baseball bat and learn how to do it yourself!