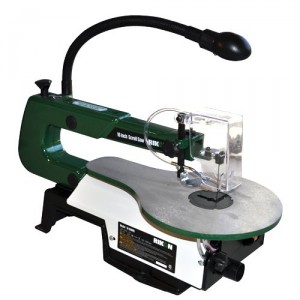 One process I wanted to have nailed down in my scrollsawing toolbox was how to replace the blade. The Rikon 16″ Scroll Saw available at Highland is currently sold as a combination pack with an assortment of 86 blades. The first thing I had to learn was the difference between pin-style blades and pinless blades. I asked Ed Scent of Highland Woodworking to help provide an answer:
"Vintage scroll saws often used a pin style blade, with a "T" shaped end as a standard mount. But when you are doing more intricate work, you will probably need to thread your blade through small spaces in your work. The pinless blades allow for this threading, as they do not have the "T" shaped mount on the end that would prevent the blade fitting through. If you are doing a pattern with lots of small captured cuts (any shaped cutout in the middle of your board that requires a small access hole to start the cut) you will want to use a pinless blade for this cut. Pinless blades can also be made much smaller to do finer work than a pinned blade."
The Rikon Scroll Saw can take both types of blades, and the installation and removal of the pin-style blades is fairly intuitive – the bottom hooks right in, as does the top, with only a little bit of finagling. The pinless blades need to be fitted into the adapters that come with the scroll saw, and you can use the blade length gauge on the top of the saw to do a quick blade transfer, using the included allen wrench.
A couple of tips that I didn't know when I started, but helped me immensely once I figured them out:
1. Make sure the blade is not bottoming out in the adapter, otherwise you won't leave the space needed to attach the adapter to the blade supports.
2. Pop the throat plate out of the table and tilt the table to 45 degrees – that will give you much better access to both places where you need to attach the adapters.
For all of you who get more out of watching the process than reading about it, we have a video that demos the process of removing the pinless blade from the scroll saw. And although we didn't film it, re-installing the blade requires only that you reverse the steps shown in the video.
Thanks so much to Ed Scent for his expertise!
This is a five day series of videos. To start at Day 1, click here. To see the previous post, click here. To see the next post, click here.