Local Man Carves into History with Declaration
By Kayleigh Karutis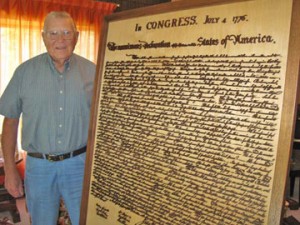 For most people, any goal or pursuit taken up 10 years ago is probably a long-gone memory.
But for Charlie Kested of Johnstown, NY, there's one thing that has been a constant in his life for the past 10 years. For the last decade, Kested has regularly sequestered himself away in his basement workshop, carefully carving, letter by letter, every single line of the Declaration of Independence out of dark walnut wood.
Times have changed. The popular music on the radio has evolved, as has fashion and television. Kested himself went through some changes, suffering a stroke that impaired his speech and his motor ability.
But throughout the years, the whirring of the blade of his scroll saw has remained constant, as has Kested's unfailing patience for his work.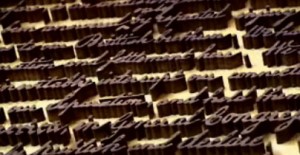 The massive piece, which is nearly as tall as Kested himself, was finally completed several months ago. It's an exact wood model of the Declaration of Independence, right down to the flourish of John Hancock's signature at the bottom. The dark walnut words are a stark contrast against the Baltic birch background.
It was a labor of love that Kested said he knew he would eventually complete. The time spent on the piece paid off, when he was awarded first place and best in show at the 2010 Florida State Fair.
The 81-year-old retired industrial arts teacher began experimenting in wood working when he was a child growing up in Fonda. Both his father and grandfather were accomplished woodworkers, he said.
"My grandfather had a lathe at home. I was maybe 10 when he got a box, stood me on it and put a tool in my hand. I did my first turn," he said.
From then on, Kested showed an interest and skill in woodworking. He went into the Navy in the 1950s, where he attended wood pattern making school. He worked for years making models out of wood that would then be used to make cast-iron products for the Navy before returning home and becoming a teacher in the Fonda-Fultonville Central School District.
He's made model medical prosthetics for replacement chins, noses and other body parts. He's replaced the dashboard of an old Rolls Royce, and has worked making quality-control models for a variety of applications. He was looking for a special challenge, though, and found it in the Declaration.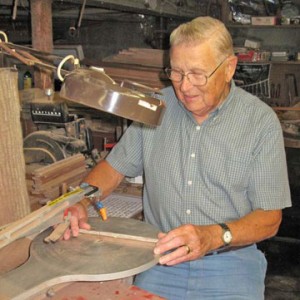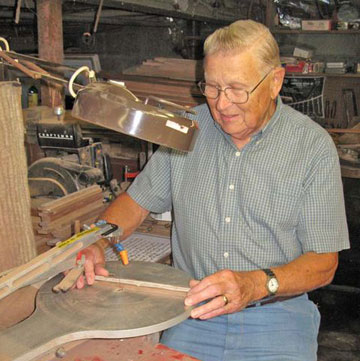 He started the Declaration of Independence in 2000 and worked on it, little by little, over the years until it was near completion. A stroke, though, less than a year ago put the project, and his life, in peril.
Luckily, Kested emerged from his ordeal far better than some others do. He can no longer feel any sensation in one hand, but is able to still use it and still has a strong grip. His speech is slower and he sometimes struggles to find words, but ultimately he's made a good recovery, he said. After some therapy he was able to resume work on his project, carving the final bits of punctuation and adhering them to the birch background.
He said he hopes his experience inspires others who deal with a similar issue.
"I feel really blessed. I want people to know that you can still do things, that they shouldn't give up, they should keep on going," he said.
Kested did keep on going, straight to the Florida State Fair earlier this year, where his piece attracted a lot of attention. Kested and his wife, Beverly, live in Florida during the winter months.
Peter Richardson, editor for the St. Petersburg Wood Crafters Guild in Florida, said the fellow woodworkers who saw Kested's piece at the state fair were amazed by it.
"They understand the amount of patience and attention to detail it requires," he said. "[Kested] is absolutely meticulous in his other pieces. [The Declaration of Independence piece] is so precise you can't believe they were made my hand."
Richardson called the piece "museum quality." He said Kested's stroke makes his accomplishment even more astonishing.
"It's amazing when you understand that his right side was paralyzed," he said. "He pushed and finished it and that alone deserved best of show."
Aside from his prize-winning Declaration, Kested is an accomplished woodworker whose made everything from grandfather clocks to ornate, minutely-detailed decorations to jewelry armoires. His home in Johnstown is full of his work, from the entire kitchen to the "love spoon" adorned with roses he carved for his wife.
Beverly Kested said she is constantly in awe of her husband's skill. She smiled as she warmly recalled when the pair first met while he was visiting the area to attend a wedding during his time in the Navy more than 50 years ago, and was eager to praise her partners accomplishments.
"He's won so many awards, it's unbelievable," she said. "I think [the Declaration] is the best I've ever seen. I think he's pretty special."
Charlie Kested said the Declaration itself is a piece of history that is near to his heart. The document, written mostly by Thomas Jefferson and signed on July 4, 1776, declared the 13 American colonies at war with Great Britain, were no longer ruled by Great Britain and were independent states. It contains one of the most well-recognized lines in American history: "We hold these truths to be self-evident, that all men are created equal, that they are endowed by their Creator with certain unalienable rights, that among these are life, liberty and the pursuit of happiness."
The Kested's said Charlie's work on the Declaration led them to learn more about the history of the document, which both called fascinating.
Now that it's finished, it will remain in the Kested family as a treasured heirloom, the pair said. Kested said he isn't taking a break from his woodworking now that his long-time project is finished. Next up, the Gettysburg Address. That piece, the pair said, will hopefully be ready for next year's state fair.
This article first appeared on July 4, 2010 in The Leader-Herald, a newspaper in Gloversville, New York.
After getting an extraordinary amount of feedback on this article, we followed up with Mr. Kested by phone. You can see our latest report on Charlie Kested and his plans for the Gettysburg address here.

---