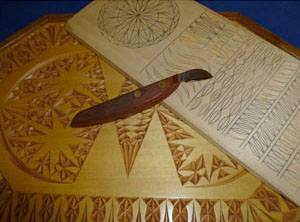 Chip carving is a form of relief carving in which the carver removes precise chips from the surface of the wood with a small extremely sharp knife. Mickey Hudspeth will demonstrate what chip carving is, the safety issues involved and demonstrate various types of cuts including cutting triangles, canoe shaped chips, rosettes and drawing and carving freehand. Then each student will practice under Mickey's supervision by chip carving on practice boards.
If you don't have a sharpened carving knife, don't let that deter you – we will have a couple extra on hand for late sign-ups.
Those of you who read our Wood News every month will recognize Mickey's name from the October 2010 article on his Incredible Homemade Workshop.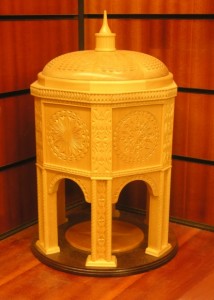 He is also well known around these parts for his award winning chip carvings, having taken 1st, 2nd & 3rd place in the chip carving category at the Smoky Mountain Wood Carver's show this summer. The picture to the right is of one of his pieces that we have on display at Highland, and it gives you a good idea of what Mickey can teach you to do. Pretty incredible stuff!