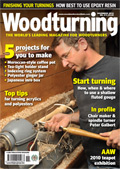 We are very happy to report that Peter Galbert, who is scheduled to teach a chairbuilding class at Highland Woodworking this fall, is gaining more notice in the woodturning world.
Woodturning Magazine published a fantastic profile on Peter in October of 2010, and he was even featured on the cover! Inside the article he discusses his process, including the "human quality" he strives for in all of his chairs, by achieving subtle variations between the turnings. Our personal favorite part of the article is when Peter talks about imagining "someone mistaking a loaf of bread for a doorstop" to help him stick with the tools that allow the wood to do what it does best.
Take a look at the article here, and check out Woodturning Magazine, or pick one up at Highland Woodworking!
Links:
Read Peter Galbert profile
Download Peter Galbert profile (better quality)
Woodturning Magazine
Signup for Peter Galbert's chairbuilding class at Highland Woodworking