Well, dern!! It is obvious I cannot live without one of these Galbert Drawsharps.
I am a big fan of Peter Galbert and the man is just amazing to me both with his Windsor Chair skills, and his mechanical inventiveness.  I took his chair making class at Highland a few years ago and he is coming back next March to do another one. By the way, if you want to see my chair built in Peter's class, look in the front window of Highland and see it sitting next to an original Dunbar and an original Maloof. Turn it over and see my signature on the bottom. Not that my skills are worthy of such august company, but hey, there it is. I plan to mention having a chair in the front window of Highland in my obituary many years from now.
Peter started with the Caliper, a wonderful on-the-go diameter-measuring tool for turners. He has moved into Reamers and Travishers for chair makers and now comes the Galbert Drawsharp by Benchcrafted.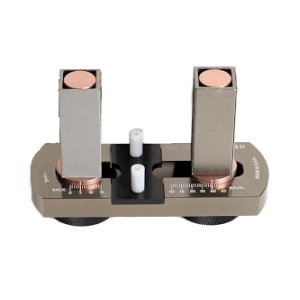 Sharpening is one of the great frustrations in my woodworking life. And when I take a class on chair making where I use a drawknife as a big part of the work, it is so disheartening  to see someone like Peter take a drawknife and hone it by cutting end grain on a white pine seat blank. Did you get that? He hones it not with a leather strop, but by cutting end grain on white pine. Well, now he has invented a mechanical device, which should allow me to do that too.
The Drawsharp sets the angle of the cutting edge by guiding off a couple of small pegs set in the middle of the device and running off the back edge of the knife. It is all done by hand, quiet and easy and smooth and it looks like it will work perfectly on my drawknife. Maybe now I won't have to buy a new drawknife just because the one I have is dull.
Go watch the video on the Highland website and see how easily the Drawsharp works. If you have an old drawknife, tune it up and give it a try on a chunk of wood. Clamp the wood in the vise of your workbench and with the flat side of the blade down make a slicing angled cut. Don't try to dig it in, just pull it towards you and take a thin shaving. Don't jerk and snatch it along, that's what happened to Roy Underhill's half-brother. Just a smooth slicing cut and then come back for another. It's like petting your cat, don't go against the grain — always cut down hill. If you are breaking off big chunks or splitting out to the end of the wood, then you are doing it wrong. Turn the wood around. I do not consider myself a huge expert with a drawknife, but I do find myself picking it up much more often these days. It is quick and easy and will remove an amazing amount of material in a very short time. Just think what it might do when it is sharp!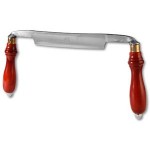 Get yourself a Drawknife, a Drawsharp, and go to work. Shoot, take the class and make a beautiful heirloom chair by hand and people will look at it and touch it and say "how pretty" and "can I sit in it?" And you will say, "yes, please sit in it. People have been sitting in chairs just like it for 300 years and there is not a nail in it and very little glue" and "yes it will hold you up, and there are three kinds of wood to suit the places where it is used and I certainly did make it all by hand, thank you very much!" Then when you walk by it at night on the way to bed and you will touch it once more and smile.