I have always been fascinated that there are only seven story plots for movies, fiction, TV and all. Sometimes when I'm watching a movie, I have this deja vu feeling all over again and that's probably why. Here are the seven plots taken from a book by Christopher Booker.
Sad to say, but you will never again be able to watch a movie without classifying it with this list:
2. The Quest
3. Voyage and Return
4. Rebirth
5. Comedy
6. Tragedy
But wait, this is a woodworking blog, so how does this relate to woodworking? It does, and here's how.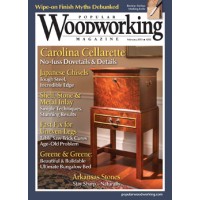 Megan Fitzpatrick was recently named Editor of Popular Woodworking Magazine and is taking some grief from her buddy Chris Schwarz about it. Go read his blog interview with Megan and see what kind of grief ("So one of my favorite internet comments about your promotion was this: "Great, now it can be a mediocre magazine with a feminine touch." How does that make you feel?"). After a great discussion about garden gnomes and heart shaped cutouts, Megan goes off to be the Editor and I alone am left to tell the tale.
I usually read two woodworking magazines — Fine Woodworking and Popular Woodworking Magazine. I feel for Megan because I think there are a limited number of topics in woodworking magazines — in fact, seven may do it. Think about it, you see articles on jigs, furniture, sharpening, drawing, tools, joints and wood. Every article you see may fit into one of these categories (except, "I just nailed the top of a baby food jar to the bottom of a shelf and I can put screws in the jar and still see them). In fact, Fine Woodworking for December is sitting here on my desk and the cover lists lumber, built-in, jig, tool test, Shaker style, tabletop. I think it has all been done before. If I were going to try to write an article for Megan to publish, 
would simply go back say 20 issues, pick a topic, take some new pictures and do it all over again. Some would want to call that plagiarism — I could argue history. But unless someone does it, there is no magazine. Seven topics. Is there nothing new under the sun?
Course in music there is only ABCDEFG — right Mozart?