Everybody needs their own gargoyle.
I bought some basswood at the wood store a few months ago and about two weeks ago, went to the High and got a six piece set of Flexcut carving tools. I found a pattern I like in a book and decided to go after it. After roughing it out on the band saw, I went after it with the carving tools. I really like it.
Just off the Band Saw – what do you think?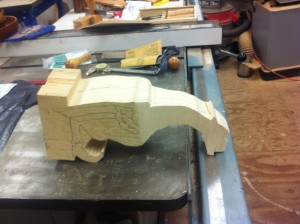 Still a ways to go, but not too bad for the first gargoyle. Least it's not rock.